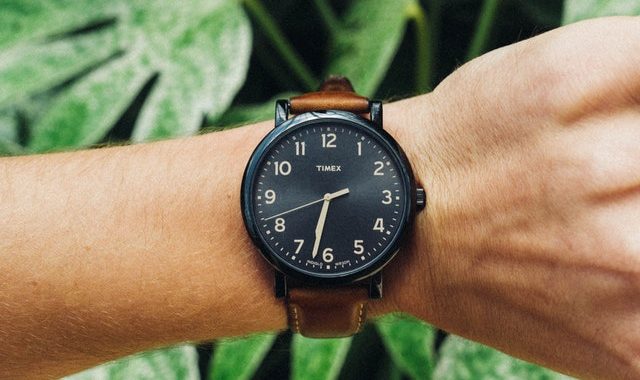 A strap is a watch's most essential companion. It defines the style of a watch and can change it to different levels. While most people put all their focus on the brand of the watch, they forget the fundamental part that connects the watch to your wrist – the watch strap. It helps to learn about the different types of watch straps.
Types of Watch Straps
This article highlights the different types of watch straps commonly used today. We'll group them mainly by the types of materials but some of them can be made from many materials that can compliment any look.
Normal Leather Strap
This is one of the most classic straps, with a smooth surface and simple design. It's ideal for those that want a strap for office and casual wear, but don't want to seem overdressed. This strap is perfect for girls who want to elevate their outfit.
Stitched Leather Strap
This is a slight variation of the normal leather strap, featuring stitching at the sides. It goes well with jeans — especially when being paired with other sorts of men's clothing. And if you want to make the strap look more rugged and casual, go for contrast stitches.
Exotic or Grained Leather
This type of strap sits on top of the formal wear style. It's the undisputed choice for black tie events because it lends a refined look that is simply hard to beat.
Double Ridged Strap
This type of strap is made by inserting two narrow paddings inside the strap, giving it a ridged appearance. This gives the strap a unique characteristic and added flair.
Rally Strap
This type of strap stands out from the rest due to its characteristic large perforations punched out below the lugs. It can be made from rubber, but most of them are made from leather.
Bund Strap
Bund straps feature an extra layer of leather padding underneath the watch case. The extra padding helps to protect your wrist from extreme temperatures. It's also a great choice for people with metal allergies.
Nato Strap
Most Nato straps are made from nylon but there are also leather variations. It's become popular among the masses for its durability, affordability, lightweight and fuss-free. A Nato strap can also drastically change the look and feel of a watch.
Zulu Strap
This type of strap has a striking resemblance to the Nato strap but the main difference is that they're made from thicker materials than Nato straps. Its most significant advantage is the thicker material (leather or nylon) which makes for a more durable strap.
Perlon
Perlon straps have also become increasingly popular. They intertwined nylon threads that are weaved into each other. Another unique feature is that a Perlon strap doesn't have any holes in it for a pin.
Oyster Bracelet
This is one of the most popular types of steel bracelets on many watch brands. The main characteristic is that the steel links have a symmetrical design. It's preferable among watch enthusiasts due to its functionality rather than design.
President Bracelet
This type of bracelet is quite like the oyster bracelet with three pieces per link. The only difference is that the links are shorter, giving the watch a denser and more intricate look.
Jubilee Bracelet
The jubilee bracelet features narrow links at the center, which makes it more unique than the traditional president and oyster straps.
Bottom Line
It goes without saying that watch straps bring out the style of a watch to a whole new level. Other watch strap styles to consider include Milanese/Mesh Bracelet and the Engineer Bracelet. So, you can easily change the look and feel of your watch by choosing from different types of watch straps. You can also look into online lookbooks for more style inspiration depending on the type of strap that you decide to wear.